Fitness & Recreation has created 8 weeks of activity challenges to keep students, faculty, and staff moving throughout the Holiday season! Challenges start the week of November 30 and ending the week of January 18. Each week is a different activity challenge with the chance to win prizes!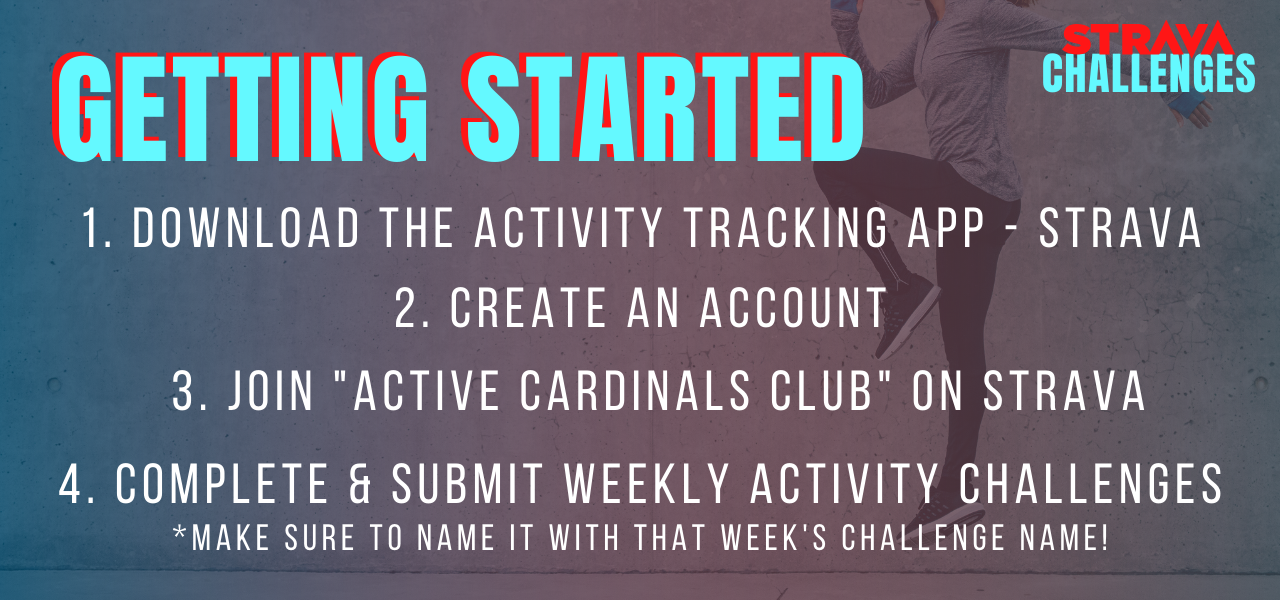 In order to win, participants will need to download Strava, create an account, and join the Active Cardinals Club. You'll complete an activity for the challenge, and name it with that week's challenge name.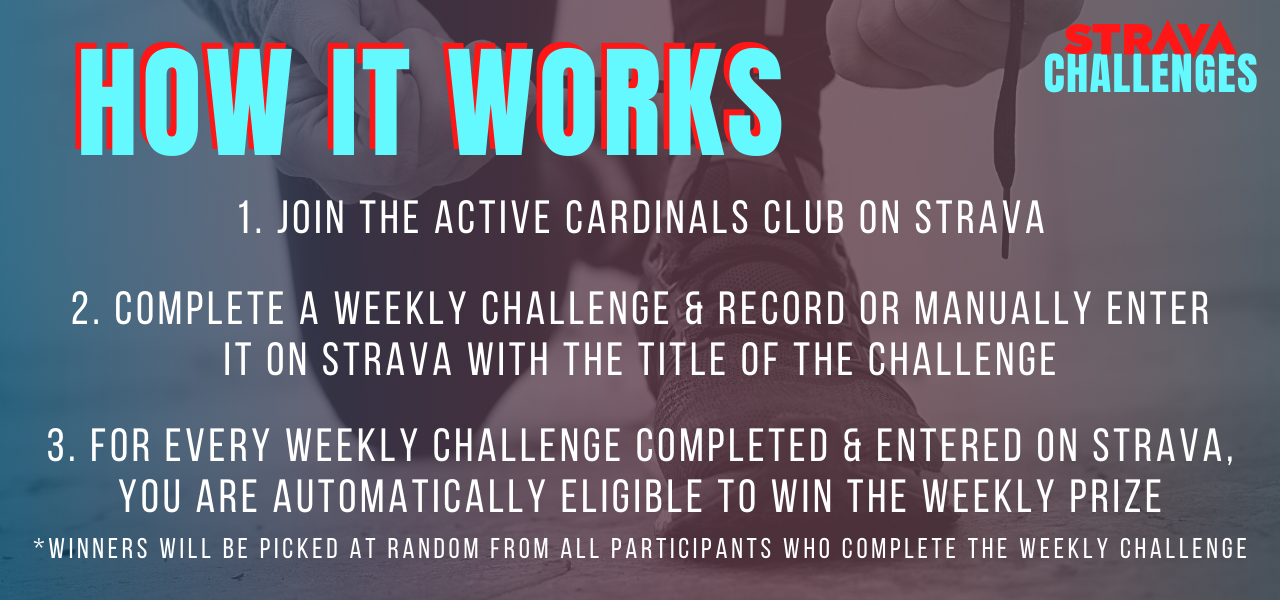 To view the full challenge list and descriptions, see below!
Week 1: Consistency is Key!


WEEK 1 CHALLENGE: Consistency is Key
DATES: Mon, November 30 - Sun, December 6
WHAT TO DO: Record 5 activities in 1 week

CHALLENGE INFO
This week's challenge is to record 5 activities from Monday 11/30 - Sunday 12/6. Any activity will do - run, bike, swim, hike, lift, walk or another workout will count toward your activity total.

Complete the weekly challenge and record (or manually enter) it on Strava. Make sure to title your activity with the challenge name - Consistency is Key! See an example to the right. 

Catholic U Fitness & Recreation will have 8 weeks of Strava Challenges starting the week of November 30 and ending the week of January 18. Each week is a different activity challenge with the chance to win prizes! 

For every weekly challenge completed and entered on Strava, you are automatically eligible to win the weekly prize. *Winners will be picked at random from all participants who complete the weekly challenge.

As a participant, I honor that my submissions are accurate and honest.

#ActiveCardinals #CatholicUFitRec
Week 2: Get Rec'd!


WEEK 2 CHALLENGE: Get Rec'd
DATES: Mon, December 7 - Sun, December 13
WHAT TO DO: Record a class via Recreation Movement

CHALLENGE INFO
This week's challenge is to record any class of your choice taken from the Recreation Movement website, either a live or pre-recorded class. Head to 2020recreationmovement.com to get started and complete it between Mon, 12/7 - Sun, 12/13.

Complete the weekly challenge and record (or manually enter) it on Strava. Make sure to title your activity with the challenge name - Get Rec'd! See an example to the right. 

Catholic U Fitness & Recreation will have 8 weeks of Strava Challenges starting the week of November 30 and ending the week of January 18. Each week is a different activity challenge with the chance to win prizes! 

For every weekly challenge completed and entered on Strava, you are automatically eligible to win the weekly prize. *Winners will be picked at random from all participants who complete the weekly challenge.

As a participant, I honor that my submissions are accurate and honest.

#ActiveCardinals #CatholicUFitRec


Week 3: No Weights, No Problem

WEEK 3 CHALLENGE: No Weights, No Problem
DATES: Mon, December 14 - Sun, December 20
WHAT TO DO: Record a bodyweight AMRAP ("AS MANY REPS AS POSSIBLE") workout

CHALLENGE INFO
This week's challenge is to record a bodyweight AMRAP (as many reps as possible) workout from Mon, 12/14 - Sunday, 12/20. Some bodyweight moves include pushups, lunges, squats, burpees, sit ups, etc. - your choice!

Complete the weekly challenge and record (or manually enter) it on Strava. Make sure to title your activity with the challenge name - No Weights, No Problem! See an example to the right. 

Catholic U Fitness & Recreation will have 8 weeks of Strava Challenges starting the week of November 30 and ending the week of January 18. Each week is a different activity challenge with the chance to win prizes! 

For every weekly challenge completed and entered on Strava, you are automatically eligible to win the weekly prize. *Winners will be picked at random from all participants who complete the weekly challenge.

As a participant, I honor that my submissions are accurate and honest.

#ActiveCardinals #CatholicUFitRec


Week 4: 12K of Christmas

WEEK 4 CHALLENGE: 12Ks of Christmas
DATES: Mon, December 21 - Sun, December 27
WHAT TO DO: Record 12 kilometers of activity in 1 week

CHALLENGE INFO
This week's challenge is to record 12 kilometers of activity within Mon, 12/21 - Sun, 12/27. This can be any type of activity, just get that 12 kilometer distance!

Complete the weekly challenge and record (or manually enter) it on Strava. Make sure to title your activity with the challenge name - 12Ks of Christmas! See an example to the right. 

Catholic U Fitness & Recreation will have 8 weeks of Strava Challenges starting the week of November 30 and ending the week of January 18. Each week is a different activity challenge with the chance to win prizes! 

For every weekly challenge completed and entered on Strava, you are automatically eligible to win the weekly prize. *Winners will be picked at random from all participants who complete the weekly challenge.

As a participant, I honor that my submissions are accurate and honest.

#ActiveCardinals #CatholicUFitRec
Week 5: Family Fun!

WEEK 5 CHALLENGE: Family Fun
DATES: Mon, December 28 - Sun, January 3
WHAT TO DO: Record an activity with a family member or pet!

CHALLENGE INFO
This week's challenge is to record an activity with a family member or pet anytime between Mon, 12/28 - Sun, 1/3! You can choose any activity of your choice. Let's see those furry family members!

Complete the weekly challenge and record (or manually enter) it on Strava. Make sure to title your activity with the challenge name - Family Fun! See an example to the right. 

Catholic U Fitness & Recreation will have 8 weeks of Strava Challenges starting the week of November 30 and ending the week of January 18. Each week is a different activity challenge with the chance to win prizes! 

For every weekly challenge completed and entered on Strava, you are automatically eligible to win the weekly prize. *Winners will be picked at random from all participants who complete the weekly challenge.

As a participant, I honor that my submissions are accurate and honest.

#ActiveCardinals #CatholicUFitRec
Week 6: New Year, New Workout

WEEK 6 CHALLENGE: New Year, New Workout
DATES: Mon, January 4 - Sun, January 10
WHAT TO DO: Record an activity you have never done before!

CHALLENGE INFO
This week's challenge is to record an activity you have never done before anytime Mon, 1/4 - Sun, 1/10. This can be bodyweight exercises, cardio, or something completely new!

Complete the weekly challenge and record (or manually enter) it on Strava. Make sure to title your activity with the challenge name - New Year, New Workout! See an example to the right. 

Catholic U Fitness & Recreation will have 8 weeks of Strava Challenges starting the week of November 30 and ending the week of January 18. Each week is a different activity challenge with the chance to win prizes! 

For every weekly challenge completed and entered on Strava, you are automatically eligible to win the weekly prize. *Winners will be picked at random from all participants who complete the weekly challenge.

As a participant, I honor that my submissions are accurate and honest.

#ActiveCardinals #CatholicUFitRec
Week 7: 21K for 2021

WEEK 7 CHALLENGE: 21K for '21
DATES: Mon, January 11 - Sun, January 17
WHAT TO DO: Record 21K of a run, bike, or swim 

CHALLENGE INFO
This week's challenge is to record 21 kilometers of either a run, bike, or swim between Mon, 1/11 - Sun, 1/17. All 21 kilometers must be of the same activity.

Complete the weekly challenge and record (or manually enter) it on Strava. Make sure to title your activity with the challenge name - 21K for '21! See an example to the right. 

Catholic U Fitness & Recreation will have 8 weeks of Strava Challenges starting the week of November 30 and ending the week of January 18. Each week is a different activity challenge with the chance to win prizes! 

For every weekly challenge completed and entered on Strava, you are automatically eligible to win the weekly prize. *Winners will be picked at random from all participants who complete the weekly challenge.

As a participant, I honor that my submissions are accurate and honest.

#ActiveCardinals #CatholicUFitRec
Week 8: You vs. You

WEEK 8 CHALLENGE: You vs. You
DATES: Mon, January 18 - Sun, January 24
WHAT TO DO: PR a run, ride, or swim.

CHALLENGE INFO
This week's challenge is to record a personal record (PR) workout between Mon, 1/18 - Sun, 1/24! You can do a run, ride, or swim. It's you vs. you - let's see who comes out on top.

Complete the weekly challenge and record (or manually enter) it on Strava. Make sure to title your activity with the challenge name - You vs. You. See an example to the right. 

Catholic U Fitness & Recreation will have 8 weeks of Strava Challenges starting the week of November 30 and ending the week of January 18. Each week is a different activity challenge with the chance to win prizes! 

For every weekly challenge completed and entered on Strava, you are automatically eligible to win the weekly prize. *Winners will be picked at random from all participants who complete the weekly challenge.

As a participant, I honor that my submissions are accurate and honest.

#ActiveCardinals #CatholicUFitRec