Mission:
The Eugene I. Kane Student Health and Fitness Center is located in the heart of campus housing. Since 2004, the Fitness & Recreation department has offered a variety of fitness options to the student community through the 7,000 sq ft facility. The Kane Fitness Center offers functional training space with a Queenax training unit, state of the art equipment, such as Les Mills On-Demand Spin Bikes, selectorized machines, and power racks. 
The Kane Fitness Center's mission is to offer fitness & recreational programs to the Catholic University's student community that are designed to foster a culture of personal growth and promote an active, healthy, and balanced lifestyle.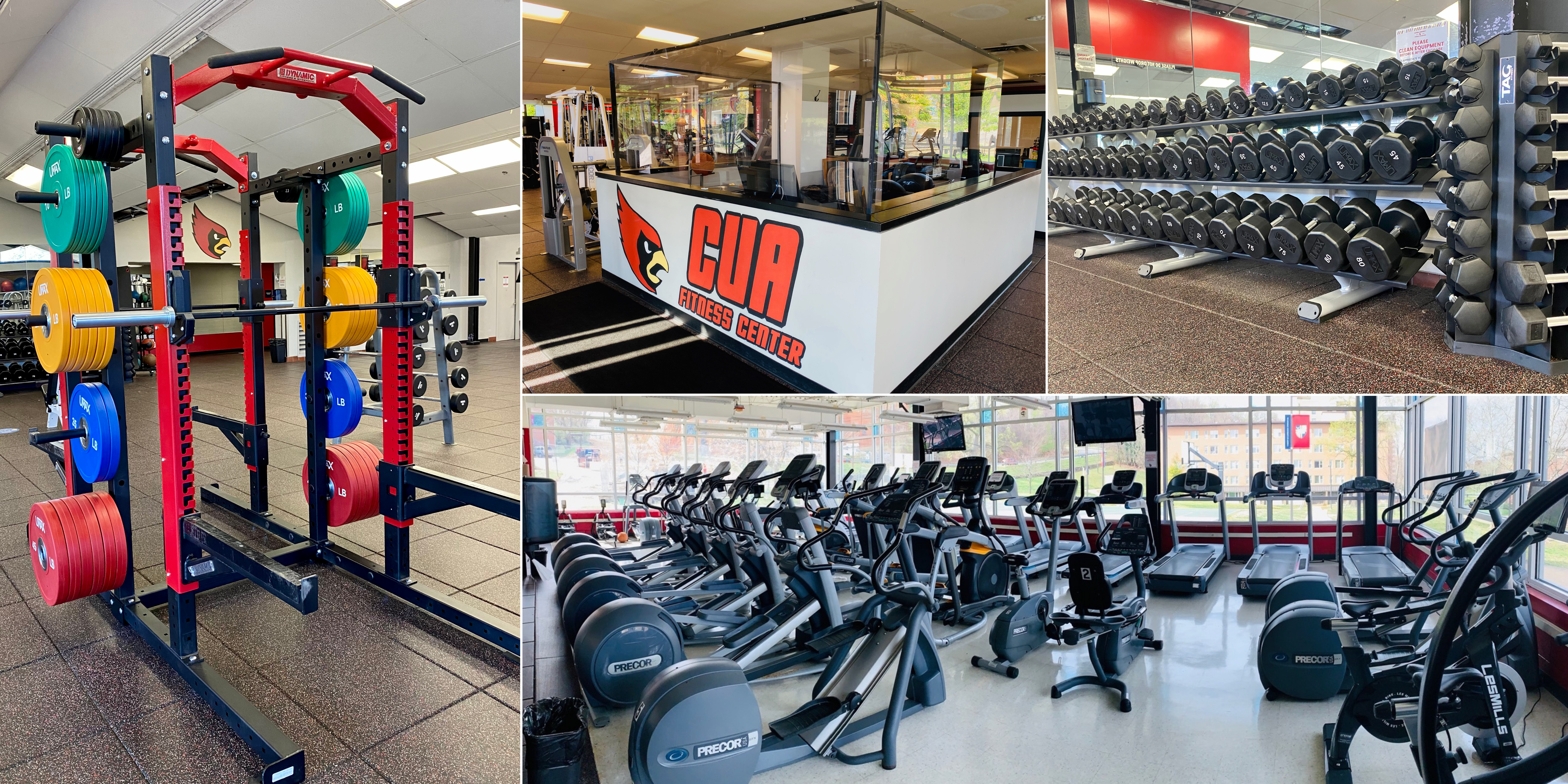 Hours of Operation
First time working out in the Kane Fitness Center? SIGN THE LIABILITY WAIVER (CLICK HERE). All patrons must sign the liability waiver at the start of each semester.
Fall 2022 Hours
Mon-Thurs -- 7:30AM-10:30PM
Friday -- 7:30AM-7:30PM
Sat & Sun -- 9:00AM-6:00PM
Thanksgiving Limited Hours
Mon, Nov 21 -- 7:30AM-10:30PM
Tue, Nov 22 -- 7:30AM-5:00PM
Nov 23-27 -- CLOSED for Thanksgiving Break
Group Fitness Classes

Only a few weeks left for Group Fitness classes this Fall! The last week of fitness classes will be December 5-8. Save your spot and view the full schedule at FITNESS-RECSPORTS.CUA.EDU! All fitness classes are free and led by certified instructors. See below for class descriptions.
HIIT Squad - Mondays at 5:30pm - Kelly - Mill North Rec Room
HIIT, or High Intensity Interval Training, consists of a variety of strength and cardio movements all performed on a timer. The instructor will give participants two or three movements at a time. Participants will complete each movement in succession for a set length of time, followed by a rest period. Get ready for a total body workout that will push your weight lifting abilities and get your heart rate up. Class led by Kelly in Mill North Rec Room.

Morning Yoga - Tuesdays & Wednesdays at 8:00am - Meredith - Mill North Rec Room
Start your day off right with this fun and invigorating practice. Work through a series of poses, exercises and stretches intended to build strength, balance, and flexibility in mind, body, and spirit. Class led by Meredith in Mill North Rec Room.
Evening Yoga - Tuesdays at 6:00pm - Simone - Mill North Rec Room
End the day with a gently yoga practice to relax the body and mind. Class led by Simone in Mill North Rec Room.
Power Hour - Wednesdays at 6:00pm - Matt - Outdoors/Mill North Rec Room
Let's get fit together! This upbeat strength-based workout will offer a mix of cardio and bodyweight movements while building group and team comradery. Class led by Matt.
Total Body Strength - Thursdays at 7:00am - Cleo - Kane Fitness Center
Total Body Strength is a full body, total resistance, suspension training class that is personalized for your body's needs. TRX uses body weight to increase strength, flexibility, and mobility while actively engaging numerous parts of the body. Class will also incorporate other strength moves and equipment. Class led by Cleo in the Kane Fitness Center.

Personal Training
Personal Training sessions are live for the Fall 2022 semester. We offer personal training sessions for FREE for all undergraduate, graduate, and law students. Each of our trainers are Catholic University students, and currently hold their personal training certification (CPT) from the National Academy of Sports Medicine (NASM).
If you are interested in booking a personal training session, please fill out the Personal Training Client Questionnaire to ensure a successful first session -- Click Here for Personal Training Client Questionnaire!
Read more below about each of our personal trainers, then select their personal calendar to book a session with them. Due to limited trainer availability, students may only book a maximum of 2 sessions/week.
MEET CLEO!
Cleo is a certified Personal Trainer and Group Fitness Instructor. She has been leading group fitness classes since she was 16 years old and has a passion for strength training and cycle classes. She believes in committing to a consistent fitness routine as a way to maintain mental clarity and positive outlook. She is excited to work with you this semester! Sessions can only be booked on a laptop or computer (no mobile booking).
MEET MATT!
Matt is involved in almost everything fitness related on campus! As a Senior in Navy ROTC, Matt writes workouts for his entire Battalion, leads an on campus group fitness class, and has even reffed intramural sports. Matt has been a personal trainer at Kane since Fall 2021 and is ready to help you reach your fitness goals this semester. Sessions can only be booked on a laptop or computer (no mobile booking).
Recreation Equipment Reservation
Looking to reserve some recreational equipment for an event? You've come to the right place! We have games like cornhole, spikeball, kanjam, and more!
Please fill out the form below to submit a reservation request. Equipment is on a first come, first serve basis, therefore no requests are guaranteed.
Fitness & Rec permits Catholic University organizations, clubs, departments, and teams to reserve recreational equipment for events. All requests must be submitted at least SEVEN (7) DAYS prior to the event date. All equipment is reserved free of charge, however replacement fees will apply if any equipment is lost, damaged, or stolen. 
All reservations are picked up and dropped off at the Kane Fitness Center.
F
or additional questions or accommodations, email fitness-recsports@cua.edu.